P01- Adam garments
01.4
The garments of Adam and Eve in Biblical and Islamic scholarship
Notes and Bibliography
---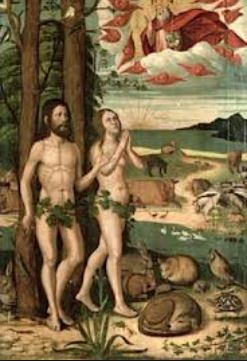 Biblical Garment imagery and the Garments of Adam and Eve
Anderson, G.
"Celibacy or Consummation in the Garden? Reflections on Early Jewish and Christian Interpretations of the Garden of Eden." HTR 82 (1989): 121-148.
Baumgarten, J. M.
"Purification and the Garden in 4Q265 and Jubilees." In New Qumran Texts and Studies. STJD 15. Ed. G. Brooke, 3-10. Leiden: E. J. Brill, 1994.
Brock, S. P.
"Clothing Metaphors as a Means of Theological Expression in Syriac Tradition." In Typus, Symbol, Allegorie bei den šstlichen VŠtern und ihren Parallelen im Mittelalter. Ed. M. Schmidt, 11-40. Eichstatt: F. Pustet Regensburg, 1981.
Hanneke, Reuling
After Eden, Church Fathers and Rabbis on Genesis 3:16-21. Leiden:  Brill Academic Publishers, 2006 = ISBN 9004146385
Harl, M.
"La prise de conscience de la'nuditŽ' de'Adam." SPat 92 (1966); 486-495.
Jung Hoon Kim,
The Significance of Clothing Imagery in the Pauline Corpus.  London, New York: T&T International, 2004.
Lambden, Stephen.
"From Figs Leaves to Fingernails: Some Notes on the Garments of Adam and Eve." In A Walk in the Garden. Ed. P. Morris and D. Sawyer, 74-91. JSOTSS 136. Sheffield: JSOT Press, 1992.
Stephen N. Lambden,  1992
"From Fig Leaves to Fingernails: Some Notes on the Garments of Adam and Eve in the Hebrew Bible and Select Early Postbiblical Jewish Writings," in Paul Morris and Deborah Sawyer (edd.), A Walk in the Garden: Biblical, Iconographical and  Literary Images of Eden (Sheffeild: JSOT Press, 1992) 79-82.
 Stephen D. Ricks, 2000
"The Garment of Adam in Jewish, Muslim, and Christian Tradition," in Benjamin H. Hary, John L. Hayes and Fred Astren (edd.), Judaism
and Islam: Boundaries, Communications and Interactions, (Leiden: Brill, 2000) 203-225;
Nils Alstrup Dahl and David Hellholm,  2001
"Garment-Metaphors: the Old and the New Human Being," Adela Yarbro Collins and Margaret M. Mitchell (edd.), Antiquity and Humanity. Essays on Ancient Religion and Philosophy Presented to Hans Dieter Betz on His 70th Birthday (Tübingen: Mohr Siebeck, 2001) 147-150
Gary Anderson,  2001
Genesis of Perfection: Adam and Eve in Jewish and Christian Imagination (Louisville: Westminster
John Knox Press, 2001) 117-134;
"The Garments of Skin in Apocryphal Narrative and Biblical Commentary," in James L.
Kugel (ed.), Studies in Ancient Midrash (Cambridge: Harvard University Center for Jewish Studies, 2001) 110-125;
Vogelzang, M.E.  and W.J. van Bekkum, 1986
"Meaning and Symbolism of Clothing in Ancient Near Eastern Texts," in Scripta signa vocis: studies about scripts. Scriptures,  scribes, and languages in the Near East, presented to J.H. Hospers by his pupils, colleagues, and friends (Groningen: E. Forsten, 1986) 272ff;
Wheeler, Brannon, 2006
Mecca and Eden, Ritual, Relics and Territory in Islam. Chicago, London: Univ. Chicago Press, 2006.