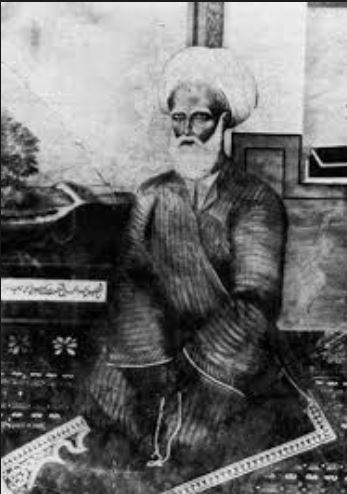 شيخ أحمد بن زين الدين بن إبراهيم الأحسائي‎
A Brief biography of Shaykh Aḥmad ibn Zayn al-Dīn al-Aḥsā'ī
Stephen N. Lambden UC Merced 2015.
In progress ... last updated and revised 26-02-2020
Shaykh Aḥmad al-Aḥsā'ī initiated a Twelver Shi`i imamocentric movement of exegesis and regeneration within late 18th and early 19th century Arabia, Iraq and Persia or Qajar Iran. He did not himself intend to form a new faction separate from or outside of Imami Shi`ism though from his first successor Sayyid Kazim Rashti and the subsequent Kirmani and other claimants, the movement al-Shaykhiyya ("Shaykhism", after Shaykh Ahmad ...) emerged.   Shaykh Ahmad was born  in the month of Rajab 1166 AH = May 1753 CE in the northern village of المطيرفى al-Mutayrfi or al-Mutairfi (south of al-Wozyeh, west of al-Shuqaiq, north of al-Mubarraz and al-Hufuf) (Pop. today about 30,000) near  the massive Aḥsā' [Hasā'] oasis or within the Aḥsā' governorate in eastern Arabia (now Saudi Arabia), or in the then Ottoman region of Bahrayn. He lived to the age of 73  having passed away in Hadiya near Medina on the 21 Dhu'l-Qa'da 1241/27 June 1826 when performing a pilgrimage to Mecca. He is buried in the Jannat al-Baqī` (`Tree Garden of the Box-Thorn') or Baqīʿ al-Gharqad (Box-Thorn) cemetery (demolished in the 1920s ; now plundered and desecrated). His full name, indicative of paternal forbears, is sometimes given as Shaykh Aḥmad ibn Zayn al-Din ibn Ibrahim ibn Saqar ibn Ibrahim ibn Dāghir - the latter a title of Shaykh Habib-Allah Kashani (so Tabataba`i, al-Shaykhiyya, 55. fn.3). The latter, last named individual was apparently al-Ahsa'i's  earliest Shi`i ancestor. Six or more generations back, al-Aḥsā'ī forefathers were Sunni Muslims, as, of course, were many Persians at the onset of the Safavid era (1501).
 The Oasis of al-Hasā  or Aḥsā, now within the al-Aḥsā Governorate in Eastern Saudi Arabia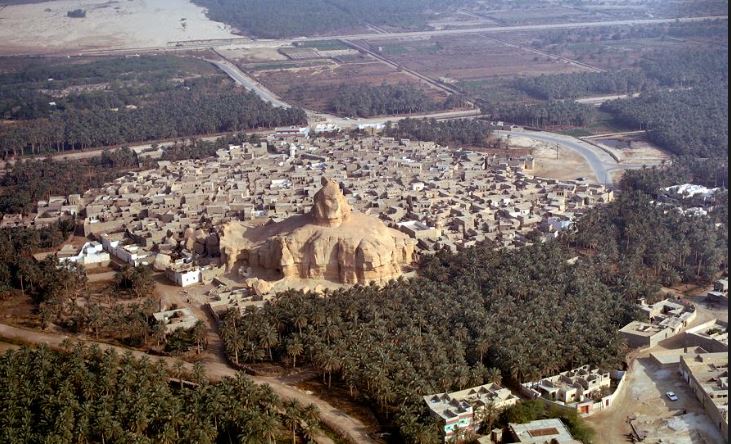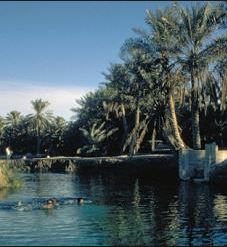 When aged about twenty in 1186/1772 and after living in and around his birthplace in Eastern Arabia, Shaykh Ahmad journeyed to Iraq returning to al-Aḥsā a year or so later. He remained in this region for another fifteen years or more until he moved to Bahrayn in 1203/1788. After another four years he then moved on to the `Atabat (sacred shrine)  regions of Karbala and Najaf (in Iraq). From 1212/1797, Shaykh Ahmad spent two or three years in Basra and the nearby village of Dhuraq (Iraq). Two years later he may have travelled again to Bahrayn (in 1214/1799). He then lived for another six years, between 1221-1222/ 1800-1806,  in Basra and surrounding villages of southern Iraq, including Habarat, Tanwiyh, Nashwah and Sahawah.
After another visit to the `Atabat (sacred shrine  regions, Najaf, Karbala and Kazimayn) in 1221/1806-7, al-Aḥsā'ī began a long period of residence in Iran first going to Mashhad then settling in Yazd from whence he journeyed to Tehran in Ramadan 1223/ November 1808. Having spent more than thirty years in Arabia and Iraq, he resided for much of the remaining  twenty years of his life in Iran. He mostly lived or spent time, for example,  in Mashhad, Yazd, Tehran and Kirmanshah. Fath `Ali Shah (reigned, 1787-1834) was fascinated by the charismatic and erudite personality of Shayh Ahmad who wrote two treatises for this then Shah of Persia, the 1223/1808 Risāla Khāqāniyya (in Jawāmi` al-kalim 1: 20-129) and the 1234/1818 Risāla al-Sulṭāniyya  (in Jawāmi` al-kalim 2, pt. 1, 245–9). They never seem to have met though al-Aḥsā'ī responded in these two treatises to some complicated theological and eschatological issues raised in communications  with the Shah.
The Family of Shaykh Aḥmad ibn Zayn al-Dīn al-Aḥsā'ī
al-Aḥsā'ī married eight times and fathered around 29 children. His son by his first wife Maryam named `Abd -Allah al-Aḥsā'ī, provides the following names in the 5th section of his short Arabic treatise on the life of his father (see below):
Section five: A discussion of the number of his distinguished wives and children.  The totality of the wives of that great personage numbered eight. Firstly Maryam daughter of Khamīs from one of the villages around Aḥsā' named Qurayn who bore him thirteen children, nine sons and four daughters. From this marriage the sons were named  [1] Muhammad Taqī, [2] `Alī Naqī, [3] `Abd-Allāh, [4] Ḥusayn, [5] Ja`far, [6] [another] Ḥusayn, [7] Muhammad Salih, [8] Muhammad Ḥasan and [9] `Īsā' [Ar. Jesus]. The four daughters from this marriage were, [1] Fāṭimah, [2] Ruqiyya, [3] Makkiyya and [4] Ḥajjiyya. Secondly, another wife was named Āminah daughter of Sayyid Ahmad who bore the Shaykh ten children, six sons and four daughters. The sons were [named] [1] Ḥusayn, [2] [another] Ḥusayn, [3] Ibrāhīm, [4] Bāqir, [5] [another] Bāqir  and [6] Ṣaliḥ while the daughters were named  [1] Mayram, [2] Raḥīma, [3] [another] Maryam and [4] Fāṭimah. Another of the [Shaykh Ahmad's] wives was named Umm Kulthūm daughter of Shaykh `Alī Sā'igh who [also] bore him one son named Ḥasan. Another one of the wives was named Raḥīma who again bore him a son named Ḥasan. Another wife was named Āminah  who bore him a daughter named Raḥīma. Another his his wives was Ruqiyya daughter of `Abd al-Ḥusayn who bore a son named Muhammad Ja`far and a daughter named Laṭīfa. Another wife was named Fāṭima Yazdiyya who had a daughter name Zā'ira. Another wife was named Maryam daughter of Ḥasan of the family of Khuwaytim. The wives were thus eight persons. 
Some of these wives died during the life of that great personage [Shaykh Ahmad]. And he was separated from some others among them.  After his death, three wives remained; namely, Maryam daughter of Khamīs, Maryam daughter of Ḥasan and Ruqiyya daughter of 'Abd al-Ḥusayn.  The total number of his children was twenty nine. Many of these children died in childhood though some died around the age of adolescence [puberty] while others died close to the age of maturity. Some were guided and attained [qualities of] perfection. And God also gave [certain of] them their own children.  Among those [of al-Ahsa'is children] who had [their own] children [his grandchildren] were four of his sons. The first of them, Muhammad Taqī, the second `Alī Naqī, the third Ḥasan, and the fourth 'Abd Allāh [see above]. And among his daughters these three [had their own children]: Fāṭimah, Ḥajjiyya and [the other] Fāṭimah [as above]" (trans. Lambden from the Persian trans. Risala Sharh Ahval, 41-2).
It might be noted from the above that Shaykh Ahamd had three wives named Maryam (Mary) and two named  Āminah (the name of the Prophet Muhammad's mother) as well as another three named Umm Kulthūm, Raḥīma and Ruqiyya. For an early Qajar era Shi`i scholar of great magnitude this number of wives was fairly normal. It is interesting that from his first wife Maryam  (the Arabic form of the name of Mary, the mother of Jesus) his ninth son was named `Īsā' which is Qur'anic Arabic form of the name of  Jesus, the founder of Christianity.