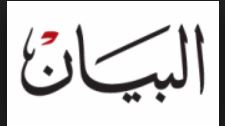 SELECT MSS.OF THE PERSIAN BAYAN IN PDf.
Stephen Lambden UCMerced. 2017.
In progress
Some PDfs of mss. and printed texts of the Persian Bayan of the Bab.
Kitab-i mustatab-i Bayan-i farsi, INBMC vol. 24. Dated 15-04-1954. Photocopy dated, 123 BE/ 1967. Codex, pp.1-432 Prefixed by a preliminary letter in Persian ...
بيان فارسى   Bayan-i Farsi (Persian Bayan). UCLA Ms.  Manuscript from UCLA Library: Special Coll.  Box 97, MSS 741.
https://archive.org/details/Bayan-i-Farsi. + Compressed complete text PDf. Bayan-i farsi UCLA.c.pdf
Azali printed edition 196X [undated]...