al-Ḥallaj : al-Ḥusayn ibn Manṣūr - Notes and Bibliographical refs.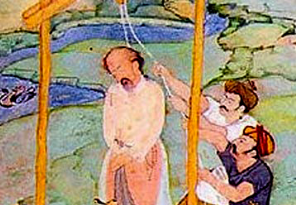 al-Ḥallaj : al-Ḥusayn ibn Manṣūr / Abū Manṣūr al-Ḥallāj  (executed. 309 /922)
حقائق التفسير او، خلق خلائق القرآن والاعتبار :
Ḥaqā'iq al-tafsīr  aw khalq khalā'iq al-Qur'ān wa-al-iʻtibār. Cairo: Maktabat Madbūlī, 2006.
Tafsir in Massignon,  1968, pp. 359–412
al-Ḥusayn ibn Manṣūr al-Ḥallāğ, Dîwân. traduit de l'arabe et présenté par Louis Massignon. Paris : Seuil, 1992,
La passion d'al-Hosayn-ibn-Mansour al-Hallaj : martyr mystique de l'Islam, execute a Bagdad le 26 mars 922 ; etude d'histoire religieuse. Paris : Librairie orientaliste, P. Geuthner, 1922. [Zug, Switzerland, Inter Documentation Co., 197-?.
الطواسين   al-Tawasin.  Riḍwān al-Saḥḥ ;introd. ʻAbd al-Qādir al-Ḥiṣnī  Damascus : : Dār al-Farqad, 2010.
The Tawasin of Mansur al-Hallaj. Trans. Aisha abd ar-Rahman at-Tarjumana   Berkeley ; London Diwan Press , 1974.
Paul Smith trans. The Tawasin : (book of the purity of the glory of the One),Campbells Creek, Victoria, Australia : New Humanity Books/Book Heaven Booksellers & Publishers, 2013.