QAYYŪM AL-ASMĀ' 
 Part C
[100]
سورة الجهاد
Sūrat al-Jihad (The Surah of the Jihad [III]).
on
Qur'an 12:100.
Translation Stephen N. Lambden
1982-2016
[1]
بسم اللّه الرّحمن الرّحيم
In the Name of God, the Merciful, the Compassionate
[2]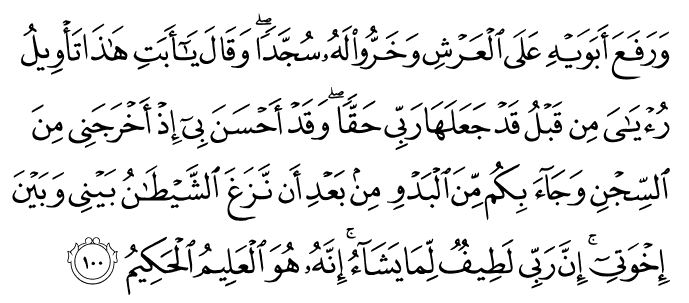 "And he lifted his father and mother upon the throne; and the others fell down prostrate before him. 'See, father,' he said, 'this is the interpretation of my vision of long ago; my Lord has made it true. He was good to me when He brought me forth from the prison, and again when He brought you out of the desert, after that Satan set at variance me and my brethren. My Lord is gentle to what He will; He is the All-knowing, the All-wise.'" (Q. 12:100, trans. Arberry). 
[3]
المعهل
a-l-m-`H-l
185
[Abjad 1+30+40+70+5+30=185]
[4] [5] [6] 
[7] [8] [9] [10] [11] [12] [13] [14] [16] [17] [19] [19] [20] [21] [22] [23] [24] [25] [26] [27] [28] [29] [30] [31] [32] [33] [34] [35] [36] [37] [38] [39] [40] [41] [42]