Sūrat al-Qada'
(The Surah of the Divine Decree). c. 1867
Introduction
Stephen Lambden UCMerced.
The Sūrat al-Qada' (The Surah of the Divine Decree) stands among the Arabic Edirne (Adrianople) period scriptural alwah (Tablets). It may be tentatively dated to around c. 1866-7 CE. The text is found in an unpublished ms. of alwah of Baha'-Allah a photocopy of which belonged to the late Hasan Balyuzi, which he almost certainly received from Iran in the 1970s, now Afnan Library uncatalogued ms. (bound in grey), Surat al-qada' is between pp. 88-103. This text opens with a specific tite and a testimony to its revealed nature as follows:

[This is] The Surat al-Qada' which descended from the Empryean of Realization (jabarut al-imda') on the part of God, the Exalted, the Most Exalted (al-`aliyy al-a`la).
The opening address is directed to a certain `Ali :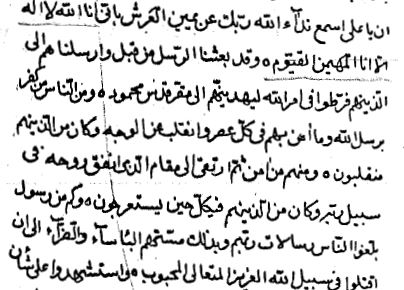 O `Ali!
Hearken ye unto the Call of God (nida' Allah),
they Lord, from the right-hand side of the Divine Throne (yamin al-`arsh), [proclaiming], "I, verily, I am God, no God is there except I Myself, the Help in Peril, the Self- Subsisting (al-muhaymin al-qayyum). We commissioned the Messengers [of God] (al-rusul) aforetime and We sent them unto such as had forsaken the Cause [Religion] of God (amr Allah) to the end that they be guided unto a sacred and praiseworthy locale. Among the people were such as disbelieved in the Messengers of God and failed, in every era (kull `asr), to come to faith in them; they turned aside from he Divine Countenance (al-wajh) for they were indeed among such as ferment discord. Among these persons were such as  such as came to faith and were elevated unto such a station (maqam) as upturned their spirit (ruh) in the Path of Path of their Lord...