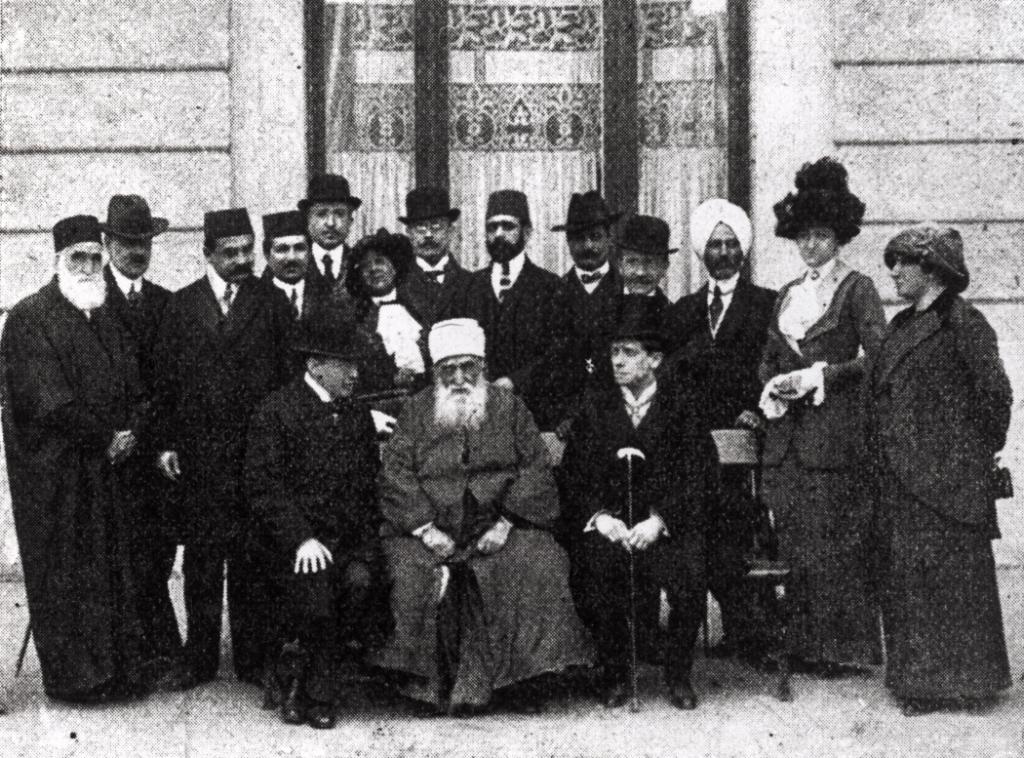 `Abd al-Baha' in Budapest, Hungary
♦
`Abd al-Baha' on Abrahamic, Islamic  and other world religions
Stephen Lambden 2017.
In Progress and under revision. Last updated 05-01-2017. 
Thousands of the scriptural Tablets of `Abd al-Baha' interpret the sacred books of the Abrahamic religions and make statements about their founder prophets or prominent persons within the centuries of their history. A new, often allegorical or mystical exegesis of world scripture, was a central heremeutical dimension of the central figures of the Babi-Baha'i religions. They framed and justified their latter day teachings in the light of Abrahamic sacred writings. We shall categorize and list below select writings of `Abd al-Baha' pertaining to  Abrahamic, pre-islamic and other religions and religious movements as well as to their sacred writings along. This along with those directly pertaining to Bible commentary and Qur'anic exegesis, the interpretation of hadith texts and to  matters islamic. We shall include below, reference to (+ PDfs) select Important Tablets of `Abd al-Baha' to actual or one-time leaders and members of the Abrahamic religions, sometimes (when known) with their various datings.
It would prove completely impossible to list all of the thousands of writings of `Abd al-Baha' that contain Biblical or Qur'anic interpretations or list the thousands of persons to whom such materials were written or who questioned him on these subjects or on scriptural matters. The data set out below is highly selective and associated notes succinct. As this webpage becomes lengthier, it is be split into separate pages for each of the major world religions.
JUDAISM AND THE HEBREW BIBLE
Select Tablets to Baha'is of a Jewish background and pertaining to the Hebrew Bible and  Jewish related subjects.
`Tablet to Hakim Hayyim'
[Untitled] "Tablet on  Moses and the Sinaitic Mysteries, Deuteronomy 33:2f., and related theological matters" in Makatib-i Hadrat-i `Abd al-Baha' Vol.1:102-108. [1] Arabic Text .PDF. Moses-Sinai-Makatib1-102f.c.pdf  [2] PDf.
ZOROASTRIANISM
Select Tablets to Baha'is of a Zoroastrian background or texts relating to Zoroastrianism.
Yārān-u pārsi. Hofheim, Germany, 1998. pp. A compilation of writings from Bahāʾ-Allāh and ʿAbd-al-Bahā' :
[Untitled] Tablet on the dating of Zoroaster and other matters' in Makatib-i Hadrat-i `Abd al-Baha' Vol.1 pp.
CHRISTIANITY AND THE NEW TESTAMENT
Select Tablets on verses of the New Testament and Christianity or addressed to  Christians believers and others. Many of the late 19th and early 20th century western and some eastern Baha'is asked `Abd al-Baha' to explain and expound biblical passages.  I shall list below, in a loose chronological order of the dates of the recipients, select tablets of special interest including their Persian or Arabic original texts and (when existing) examples of translations or articles pertaining to their interpretation. 
Hajji Mirza Haydar `Ali Isfahani (d.
 
Mirza Abu al-Fadl Gulpayigani (b. Gulpaygan, 1844- d. Cairo, 1914) became a Baha'i on September 20th 1876 and played an important role in the genesis of Baha'i Bible interpretation during the latter few decades of the lifetime of Baha'Allah and up until the time of the first world war. He wrote several books and treatises directly or indirectly addresed the `people of the book' (Jews, Christians, etc) and often cited and interpreted biblical and qur;anic passages.  His visit to the USA for several years from the autumn of 1901 until 29 November 1904, often involved deepening the knowledge of the American Baha'is in matters of biblical prophecy and fulfillment and of the deeper Baha'i aspects of biblical exegesis.

Ibrahim George Kheiralla  (b. Bhamdoun Mt. Lebanon, 30 miles from Beirut 1849 - d,     1929) whose parents came from a Orthodox Melkite ("Church of Antioch") Christian background, attended the Syrian Protestant College (now the American University if Beirut') from its inception in 1866, graduating in 1870. Having moved to Egypt in 1871,  he came to be employed in an American Protestant College in Alexandria. After coming to know about the Babi-Baha'i religion in 1883, Kheiralla became a Baha'i in Egypt in 1889 or 1890. He was among the first Baha'is to become active in teaching about the new religion in the United States of America. With his Lebanonese Christian  background and Protestant associations and having a special interest in the esoteric and the occult, he came to give considerable attention to Baha'i Bible exegesis. He immigrated to the United States in 1892, the year of Baha'-Allah's passing, and fairly quickly had considersable success in gaining Baha'i converts after  commencing quasi-Baha'i classes in Chicago in 1894.  Several of Kheiralla publications contain large amounts of Bible commentary or interpretation.Though he became an apostate after having challenged Abd al-Baha' leadership role towards the end of the 19th century, many of his American converts continued to have a great interest in the promulgation of the Baha'i "spiritual" interpretation of the Bible.
Tablets to Thornton Chase (b. Springfield, Massachusetts,1847- d. Los Angeles,1912), who came from a Baptist, Protestant religious background,  is often reckoned the first American or western Baha'i believer. He joined the new religion in June 1894 and consistently remained devoted to its founder and his son and successor `Abd al-Baha'.
See Robert Stockman + bib. : http://www.bahai-encyclopedia-project.org/index.php?option=com_content&v...
 
Tablets to Paul Kingston Dealy (d.1935). He was one of the first American Baha'is who had a special interest in the Bible and its interpretation. He accepted this religion, the "Greatest Name" on 26th March 1897 having attended the often biblically related though sometimes eccentric classes of his Syrian, then Baha'i teacher Ibrahim Kheiralla (

1849 -1929)

. 
Persian Tablet to Mr. Dealy in Fairhope, Alabama : Makatib-i `Abd al-Baha', vol. III: 492-497.  PDf. Dealy-Makatib III.pdf
Laura Clifford Barney 
Tablets to Helen Goodall (d. 1922) and her daughter and Ella Goodall Cooper (1870-1951) . Prominent early American Baha'i. These women had a special interest in Baha'i Bible Interpretation and asked `Abd al-Baha' numerous questions on this subject some of which are found in scriptural tablets others in pilgrim notes and papers. Refer :
Makatib III:
 
Tablets to Professor Thomas Kelly Cheyne (d. Oxford 1915). Oriel professor of the interpretation of holy scripture at Oxford University, UK. A Baha'i from c. 1911. 
ISLAM AND THE EXEGESIS OF THE QUR'AN AND ISLAMIC HADITH TRADITIONS.
The Commentary on the "I was a Hidden Treasure..." Hadith Qudsi (Divine Tradition). c. 1860?
Lawh-i Sharh / Tafsir Kuntu Kanz an Makfiyy an  (`Tablet in exposition of the [Hadith Qudsi, `Sacred (Non-Qur'anic) Tradition', for the Israelite king David], "I was a Hidden Treasure..."). Written for the Ottoman notable `Ali Shawkat Pasha [Turkish, XXX Şevket Paşa] (XXXX-XXXX) and perhaps dating to the late 1850s or early 1860s.
Arabic text from Makatib-i Hadrat-i `Abdu'l-Baha', Vol. 2:2-55 : Typescript PDf. Makatib II:2-55.pdf
Momen Trans. BSB 3:4 (Dec. 1985), pp.4-64. rev. and corrected, 1996, 2005. Pdf.  MM-Hidden Treasure.pdf
Farid Radmehr, شرح حدیث کنت کنز از حضرت اعلىٰ (A Study in the Báb's Commentary on "Hidden Treasure") in سفينه عرفان دفتر دهم, (Safina-yi `Irfan, vol 10), pp. 38-73 (© 2007, 'Irfán Colloquia). PDf. Radmehr-Treasure.pdf
The Tablet of the Divine Theophany (Lawḥ-i liqā').
Arabic text from Makatib-i Hadrat-i `Abdu'l-Baha', Vol. 1:102-108. PDf. L-Liqa-Makatib-1-102f.pdf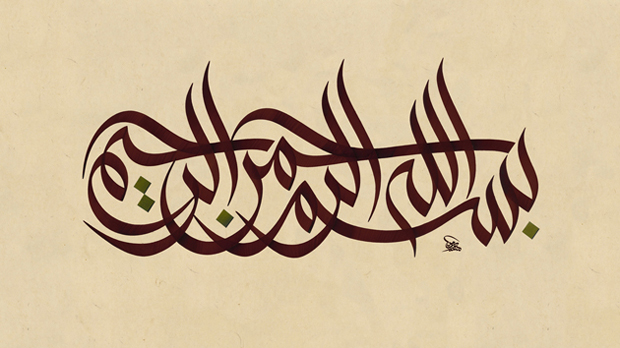 The Tafsir Basmala, Commentary on the Qur'anic-Islamic `Bismillah al-rahman al-rahim' ("In the Name of God, the Merciful, the Compassionate").
The Tafsir Surat al-Rum or Tablet Expository of a few verses at the commencement of the Qur'anic Surat al-Rum (`Surah of the Byzantines/ Byzantium), Q. 30: 2-4 in around forty brief pages.

Ghulibat al-rum = "The Byzantines have been defeated"... Q. 30:2.
A Tafsir or Scriptural Tablet of `Abd al-Bahā' commenting upon the motif of the eschatological "splitting of the moon" (Ar.  انشقاق القمر ,  al-inshiqaq al-qamar; see Q. 54:1f) and a miracle attributed to the Prophet Muhammad.

"The Hour hath drawn nigh and the moon hath been split asunder (anshaqqa al-qamar)" (Q. 54:1).
Lawh- Inshiqāq ("Tablet of the Cleaving of the Moon") - Persian text in Makatib-i Ḥadrat-i 'Abd al-Bahā' II: 263-4. PDf.
A Tafsir or Scriptural Tablet of `Abd al-Bahā' commenting upon Qur'an 53:11:
"The inmost heart al-fū'ād) does not lie about what it visions [sees]".
A Scriptural Tablet of `Abd al-Bahā' commenting upon Qur'an 53:11. Arabic text in Makatib-i Ḥadrat-i 'Abd al-Bahā' volume II:109-113  PDf.
A Turkish Scriptural Tablet of `Abd al-Bahā' commenting upon Qur'an 53:1f.
"By the Fig and By the Olive"
Turkish text and translation :
Tablet to Mirza Qabil of Abada
Persian Tablet to Mirza Qabil of Abada printed in the Baha'i magazine Star of the West 5/7, p.7ff., trans. S. Lambden from BSB 6: 2-3, Feb. 1992.
 PDf. Tablet of `Abd al-Baha' in Makatib-i hadrat-i `Abd al-Baha', vol. 1. Cairo, 1910
Lambden trnslation 198X.